Ukraine war: Ballerinas fight culture war against Russia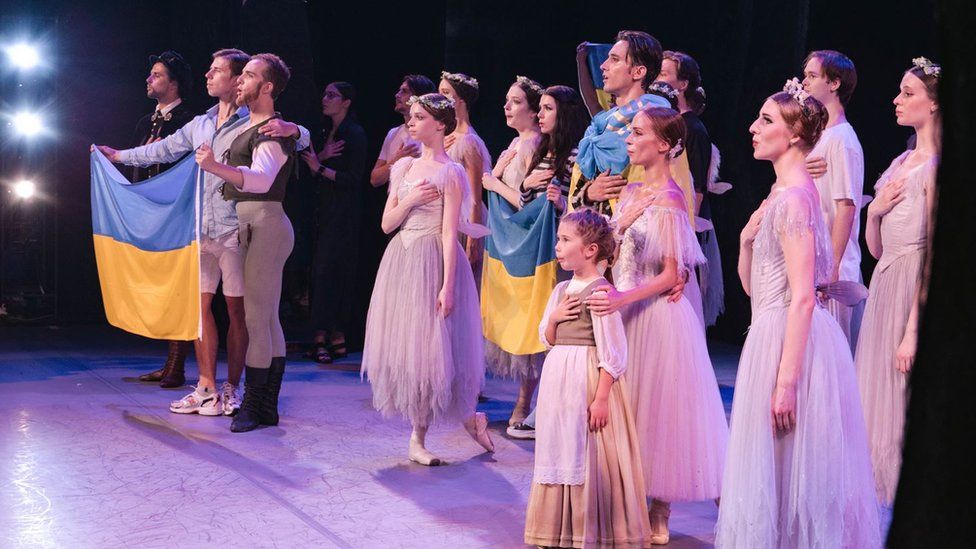 Dressed in the colours of Ukraine, a ballet dancer moves delicately across the stage of Rotterdam's medieval St Lawrence Church.
Vladyslav Bondar is performing with the United Ukrainian Ballet at a Salvation Army Christmas party - a setting far removed from the war in his homeland.
It is not where he thought he'd be 10 months after Russia's invasion in February 2022.
"I wanted to fight for Ukraine," Vladyslav says after the performance, knowing it could have meant the end of his career as a professional dancer.
But instead of taking up arms, he took again to the stage.
Vladyslav found his way to The Hague, joining more than 70 other Ukrainians who now make up the United Ukrainian Ballet - a dance company formed directly in response to the outbreak of war.
Initially the company was composed only of female dancers. Men had to remain in Ukraine in case they were called up for military duty. But a few months into the war, some professional male dancers were given special dispensation to leave the country.
"I still think about how I could do more for my country. I think about this every day, but while my friends and family fight for Ukraine, for now my contribution is to dance for Ukraine," he explained.
Fellow dancer Oleksii Kniazkov agrees: "Every single Ukrainian has his own battlefield. And the stage is ours."
Before the war, he was the principal dancer for Kharkiv's National Opera and Ballet Theatre. He spent months sheltering from bombs in his hometown until there was an opportunity to leave.
"It's important everyone does what they can do the best. We are dancers. So right now we dance for Ukraine. And we dance for freedom," Oleksii says.
They now represent Ukraine's cultural frontline, aiming to protect, support and spread a culture they say is threatened by this conflict. Even Ukraine's President Volodymyr Zelensky has recognised the importance of their mission - and his wife, Olena, was a driving force behind it.
"If we don't have the opportunity to dance, I think it's possible that Ukrainian culture could completely die out," says 26-year-old ballerina Svetlana Onipko.
Wearing a donated black and pink tracksuit, her hair tied neatly back into a bun, she describes hiding for two weeks with her family in a bomb shelter before deciding to leave Ukraine alone in the hope of finding work.
She spent four months travelling around Europe, before learning of the United Ukrainian Ballet.
"The war made me not want to dance. I was depressed and had lost inspiration for life," Svetlana says, "but here I started to feel myself again, and I found a new purpose."
The troupe have been performing all over the world, taking classics such as Giselle and Swan Lake on tour and raising money that will in part go back to Ukrainian people and the war effort.
Swan Lake is by the Russian composer, Tchaikovsky, and some of the dancers refuse to perform it given the situation with Russia.
"I think it's important to block Russian dance in the world," says Vladyslav. "I think we need a quarantine from it now. Maybe not forever, but for me, personally, at this moment it's not right."
United Ukrainian Ballet's manager Taras Onishchenko understands. He says he would never insist.
"If some people don't want to dance it, it's completely their choice. But we also have people who really want to do it."
Onischenko, wearing sunglasses indoors and leaning against the barre, is the driving force behind this foundation.
"Today Tchaikovsky is a great composer that belongs to the world - not to Putin or Putin's regime," he says.
The broadcast of Swan Lake in the former Soviet Union was often a sign of political upheaval - state TV interrupted programming by airing the ballet on a loop after the deaths of multiple leaders as well as during a failed coup against Mikhail Gorbachev in 1991.
For many of these dancers, they're now reinventing its meaning and taking it to the stage in protest.
Oleksii was one of those who performed it on a recent tour of Australia and Singapore.
"For me, Swan Lake turns from a sentimental story about the struggle between good and evil, to a story about evil, authoritarian leader Rothbart, who wants to control everything around him in his interests," he explains.
"He cheats, he lies to get more power, but in the end, he loses everything and dies. Love wins. Truth wins."
For Oleksii, and the others performing it, this new meaning is empowering.
And at the end of each performance the dancers do not just take their bows, they stand together and sing the Ukrainian national anthem, most draped in Ukrainian flags.
One ballerina holds a sign that reads "make dance, not war".
In their role as defenders and protectors of Ukrainian culture, they no longer just perform. Theirs is now a dance of defiance.