Ukraine war: Defying Russian onslaught in city 'at the end of the world'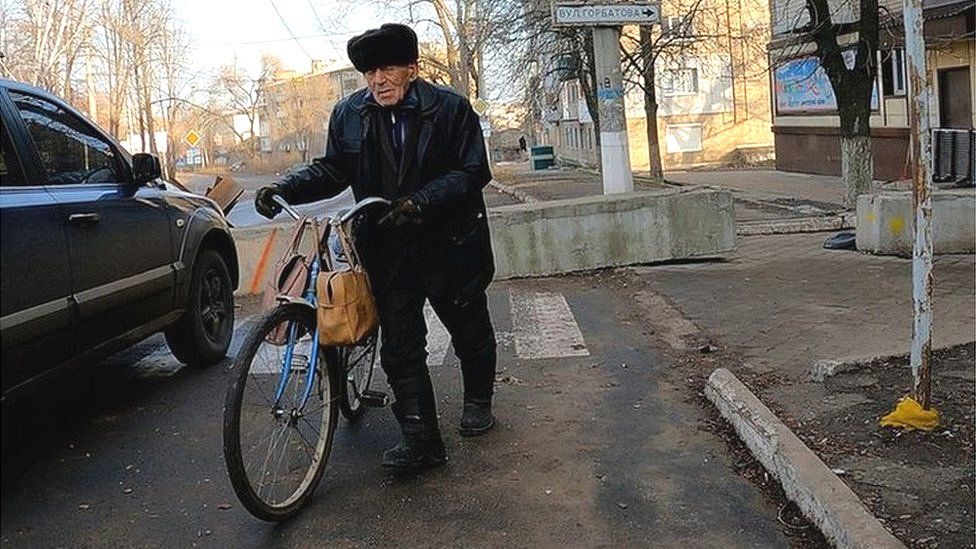 "This is the toughest operation I've ever seen. The enemy has thrown its strongest assault at Bakhmut. We haven't seen troops like this before," the Ukrainian commander tells us.
Commander Skala, as he wants to be called, is controlling the Ukrainian operation to defend the city of Bakhmut in the eastern Donbas region from an underground chamber off a nondescript street. It is one of the main command centres the Ukrainian military has set up in the city, and few journalists have been here.
A tall, hefty man with sparkling eyes, he watches a live feed from a drone hovering outside the eastern edge of the city on a big screen in the centre of the room.
One of the battalion's units is trying to spot the location of Russian positions, to aid another unit which has just gone out to defend eastern approaches to Bakhmut under attack.
In addition to Russian armed forces, mercenaries from the private paramilitary Wagner group have been sent in their thousands to front lines around Bakhmut.
"Wagner soldiers openly advance under fire towards us even if they're littering the land with their bodies, even if out of 60 people in their platoon only 20 are left. It's very difficult to hold against such an invasion. We weren't prepared for that, and we're learning now," Commander Skala says.
"Some weeks ago, we lost positions on the eastern approaches to the city because the enemy was constantly storming us with assaults. We moved to secondary front lines to save our soldiers," he adds.
"We are trying to work smartly and get those positions back. Sometimes you have to withdraw to attack the enemy properly."
Wagner leader Yevgeny Prigozhin has said Ukrainians have turned every house in Bakhmut into a fortress, and that there were now "500 lines of defence".
Russia has been using all its might to try to take Bakhmut - a battle considered critical for the country after it lost ground in Ukraine in recent months, being pushed out of Kherson in the south and the Kharkiv region in the north-east. Capturing Bakhmut is also important to further Russia's aim to control the whole of the Donbas region in eastern Ukraine.
Throughout our conversation with Commander Skala, muffled explosions can be heard from above ground. The second you step outside, the sound is loud enough to make your heart pound - the terrifying whistle of shells flying in followed by the deafening boom of the impact.
And the sound never stops as the bombs keep falling.
One resident described it as "the end of the world" and there are moments when it feels like that.
Bombs have ripped through the middle of apartment blocks, blown away the facades of buildings and created craters by the side of streets. It was hard to find a window in Bakhmut that was intact. The ground is littered with broken glass and debris.
This was once a quiet, ordinary town in the east, known for its sparkling wine. Now, it's become a byword for war and Ukraine's resistance.
It lies at a vital road intersection, but over the months, the battle here has gained a symbolic importance. Ukrainian President Volodymyr Zelensky recently called it the "fortress of our morale".
Bakhmut used to be home to just over 70,000 people before the war. Just a tenth of its residents - mostly elderly or poor - remain.
While the streets are largely empty, we see dozens of civilians in an aid centre, known here as a "resilience centre".
It has power, and wi-fi provided by Elon Musk's Starlink satellite system. Volunteers distribute small packets of food, medicines and other basic supplies. A wood-burner in the centre keeps the room warm.
This is a lifeline for the people in Bakhmut.
Many sit huddled around electrical points, trying to charge up their phones.
What's remarkable is that even when shells land just a few hundred metres from the centre, people don't flinch. It's as if they've become numb, running from bombs every day.
Trauma is visible on many faces though.
Why don't you leave, we asked Anatolay Suschenko, who was standing in a queue for some food.
"I have nowhere to go. I'm alone. Who would want to take an 86-year-old?" he said. "Here, at least sometimes when soldiers throw away food or soup, I find it and eat it. And I get free bread. In my whole life, I've never seen anything like this. All the windows of my house have been blown off, and the gate has been destroyed."
People have different reasons to stay. Olha Tupikova sits in the corner of the room with her 13-year-old daughter Diana.
"I think everywhere in Ukraine is equally dangerous. Some of our neighbours left and died elsewhere. Here we have a house. We have cats and dogs. We can't leave them," she said.
"Our roof has 21 holes and the garage has nine. I mend them every time, and try to repair the windows too. Normally the holes are caused by shrapnel, but lately we've had stones flying in too, making holes that are the size of a head."
"We live like mice. We quickly run out to get some bread, choose different routes to get back home. Before sunrise I look for wooden boards and logs [to repair my home]. In the evening I search for water because there's no water supply in town," Olha said.
"Of course, it's frightening. But now we do it army style, like soldiers. We joke that master chefs know nothing about cooking [compared to us]. We can make a meal out of anything on an open fire, or even a candle."
The local administration is trying to convince people to leave.
In a location in the city we can't disclose because it could compromise his safety, we met Oleksiy Reva, who has been the mayor of Bakhmut for 33 years.
"It's those who don't have money and don't want to face the unknown who are staying. But we are talking to them about it. Because safety is most important, safety and peace," he said.
Why does he continue to stay, we asked. "This is my life, my job, my fate. I was born here, and grew up here. My parents are buried here. My conscience won't allow me to leave our people. And I'm confident our military will not allow Bakhmut to fall," he said.
In the fields outside the city, we see the daily grind required to keep a hold on it.
The unit of soldiers we meet try to spot Russian locations and fire artillery - Soviet-era D-30 guns - in their direction, to allow Ukrainian infantry to push ahead every day. But barely any advance is being made.
"The equipment is outdated. It works fine and does the job, but it can be better. We also have to be very economical with our shells, very precise with our targets so we don't run out of ammunition. If we had more equipment and modern weapons, we would be able to destroy more targets which would make things much easier for our infantry," one of the soldiers, Valentyn, said.
Winter also makes things difficult. Weapons don't operate as smoothly in cold weather, they tell us.
"We simply need to overcome this period, hold on, and then execute counter-offensives and fight," Yaroslav said.
Each side is trying to wear the other down. This is a battle of endurance.
How do you motivate yourself every day, we asked. "We all have families to go back to. Valentyn just had a son but his family is in Germany, so he hasn't seen him yet," Yaroslav said as Valentyn cracked a shy smile.
"His motivation is colossal."
Additional reporting by Imogen Anderson, Mariana Matveichuk, Sanjay Ganguly and Daria Sipigina.