Finland calls for 'time-out' in heated Nato talks with Turkey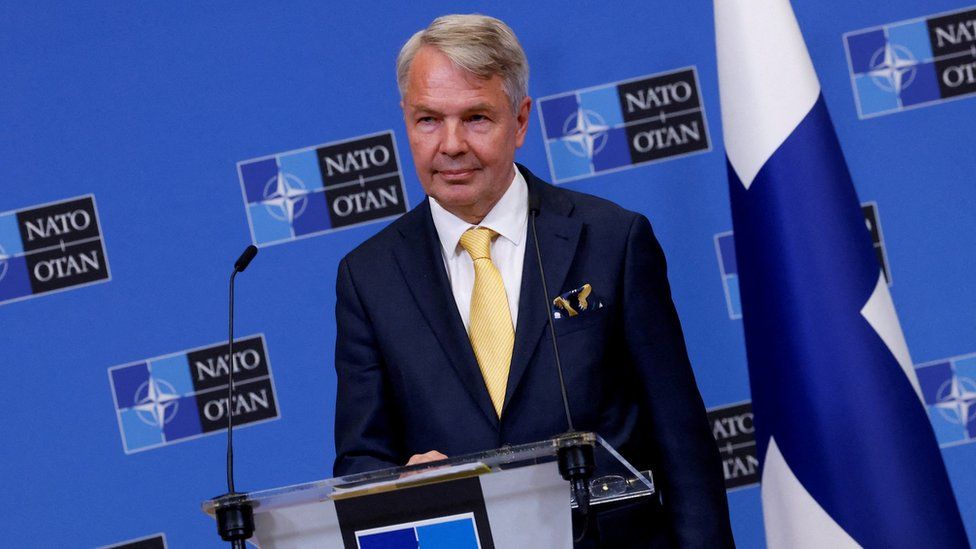 A "time-out" is needed in Finland and Sweden's talks with Turkey about joining Nato, Helsinki's Foreign Minister Pekka Haavisto has said.
A series of controversial protests in Sweden, including the burning of a Quran, have angered Turkish President Recep Tayyip Erdogan in recent days.
As Turkey is already a member of Nato, it can block applications to join.
Mr Haavisto said that the demonstrations had clearly put "brake on the progress" of the negotiations.
Talks between the countries have stalled over a number of issues - including Turkey's demands that the Nordic nations deport those it views as terrorists - and look to be on hold until after Turkish elections in mid-May.
But Mr Haavisto insisted that the Nordic countries would join the bloc together, and that he saw no need to rush negotiations.
The diplomat's comments appear to row back on an interview he gave to the Finnish broadcaster Yle just hours earlier, in which he suggested his country should consider joining the military alliance without Sweden, after Mr Erdogan said his country would not back Sweden's bid.
Finland and Sweden launched their bid to join Nato after Russia invaded Ukraine, fearing for their safety and ending a decades long stance of non-alignment. The two have pledged to join simultaneously but protests in Sweden are hampering progress.
Speaking on Tuesday to Reuters news agency, Mr Haavisto said a "time-out" was needed so that the trio could see where the "dust has settled after the current situation".
"I think there will be a break for a couple of weeks," he added.
However, it's not just protests in Sweden which have hindered its Nato bid.
Turkey is also calling on Sweden to distance itself from the Kurdistan Workers Party (PKK), which is regarded as a terrorist group by Turkey, the US and the EU.
Turkey also wants other political concessions, including the deportation of critics of Mr Erdogan, and Kurds that it claims are terrorists.
Exacerbating tensions further, on Monday, Mr Erdogan said Turkish elections had been brought forward by a month to 14 May.
Mr Haavisto said the "pressure" of the looming ballot has caused discussions to become "heated" within Turkey, suggesting Turkey's government may be taking a more hardline stance against Sweden's support of the YPG and the protests which have also seen an effigy of the president hung upside down, in a bid to garner support.