Turkey earthquake: Erdogan 'responsible for this' opposition leader says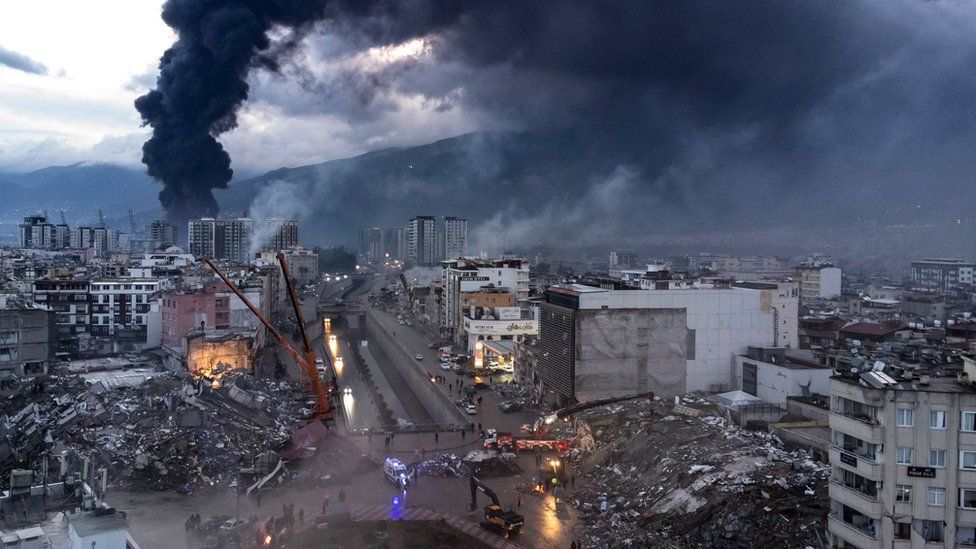 Anger is growing in Turkey over the government's perceived failure to prepare after thousands died in two huge earthquakes on Monday.
On a visit to one of the worst-hit regions, President Recep Tayyip Erdogan said that the official death toll in Turkey had climbed to 9,057.
The main opposition leader has blamed him for the scale of the devastation.
But Mr Erdogan hit back, saying it was "not possible" to be prepared for such a big disaster.
Many in the worst affected areas have have criticised the response by the Turkish Disaster and Emergency Management Authority (AFAD) for being too slow. Others say the government was not sufficiently prepared in advance.
"If there is one person responsible for this, it is Erdogan," said Kemal Kilicdaroglu, the leader of Turkey's main opposition party.
The president rejected this. He also described those who said they had not seen security forces at all in some areas as "provocateurs".
"This is a time for unity, solidarity. In a period like this, I cannot stomach people conducting negative campaigns for political interest," he told reporters in Hatay.
During another stop on his tour of areas in the disaster zone earlier today, he acknowledged some initial problems, but said the situation was now "under control".
In the southern Turkish port of Iskenderun on Tuesday, Arzu Dedeoglu said two of her nieces were trapped under the rubble. Her family had arranged a digger with their own resources to remove the debris, but she said officials did not allow them to use it.
"We waited till late in the evening, but nobody came," Ms Dedeoglu said. "We brought in a caterpillar (digger) with our own means, but they did not want us to use it - they stopped us. We have two kids under the rubble: my sister's daughters, Ayşegül and İlayda.
"They are gone now, they are gone."
When emergency services eventually arrived, Ms Dedeoglu yelled that they were "too late". Rescue workers paused for a moment, but the girls' family begged them not to stop.
"Please don't leave - maybe my kids are still alive," said their mother.
Mr Erdogan has announced a three-month state of emergency in 10 provinces worst-affected by an earthquake. It will end just before elections on 14 May, when the 68-year-old will attempt to stay in power after 20 years.
His main opposition is an alliance of centre-left and right-wing parties, known as the Table of Six. Mr Kilicdaroglu is expected to be the presidential candidate.
In a video posted on Twitter, he vowed not to meet the president "on any platform", accusing the government of conducting "PR work" since the quakes.
Anger is also mounting over an "earthquake tax" levied by the Turkish government in the wake of a massive quake in 1999 that killed more than 17,000 people.
The estimated 88bn lira ($4.6bn; £3.8bn) was meant to have been spent on disaster prevention and the development of emergency services.
Questions about the "special communication tax" - as the authorities call it - are asked every time there is an earthquake in Turkey. But the government has never publicly explained how the money is spent.
And Mr Kilicdaroglu said Mr Erdogan's government "has not prepared for an earthquake for 20 years".
But it is not just the president's main political rival who is voicing anger at the government's lack of preparedness.
"Where have all our taxes gone, collected since 1999?" Celal Deniz, 61, told the AFP news agency in the city of Gaziantep. His brother and nephews remain trapped under rubble.
Social media users have also criticised some Turkish mainstream and pro-government news channels for "muting" criticisms by people in affected areas.
Videos have been shared showing an NTV correspondent in Kahramanmaras saying locals were complaining that "aid is inadequate", with residents heard in the background asking: "Where is the state?"
The channel then appears to cut the correspondent short before returning to the studio.
Another video shared online showed a survivor telling a reporter on mainstream Haberturk network that "no one has come" to rescue them for days. The reporter subsequently moves away from the survivor and says rescuers have been "looking everywhere".
Speaking in Kahramanmaras, Mr Erdogan acknowledged there had been difficulties with the initial response to the disaster, but blamed the delays on damaged roads and airports.
He said people should only listen to communication from authorities and ignore "provocateurs".
He is also scheduled to visit Hatay and Pazarcik, epicentre of the quake.
"The state is doing its job," he said.
But for many in Iskenderun, the state arrived too late.
"Why didn't you come yesterday, we were still hearing voices from the rubble yesterday!" one woman shouted at rescue workers on Tuesday.
Another woman was in tears.
"We could have saved them if you'd arrived yesterday," she said.