Turkish journalists detained over earthquake reports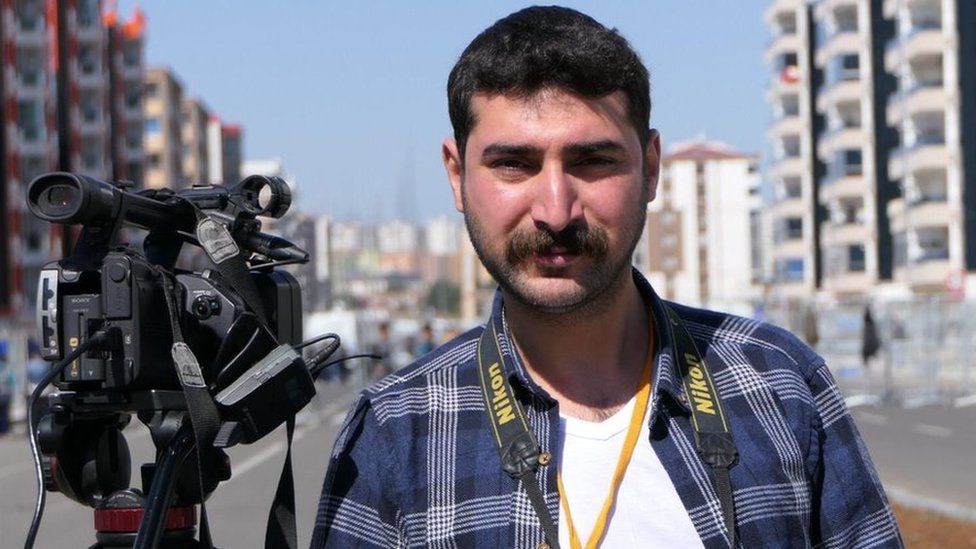 Freelance journalist Mir Ali Koçer was 200 miles from the epicentre when Turkey was struck by a deadly earthquake on 6 February. Grabbing his camera and microphone, he drove down to the affected region to interview survivors.
He shared stories of survivors and rescuers on Twitter and is now under investigation on suspicion of spreading "fake news" and could face up to three years in jail.
He is one of at least four journalists being investigated for reporting or commenting on the earthquake.
Press freedom groups say dozens more have been detained, harassed or prevented from reporting.
At least 50,000 people were killed when earthquakes hit both Turkey and Syria.
Turkey's authorities have not commented on the detentions.
'I couldn't hold back my tears'
On the night of the earthquake, Mr Koçer - who is Kurdish and contributes to pro-opposition news sites such as Bianet and Duvar - was smoking on his balcony in the south-eastern city of Diyarbakir, when his two dogs suddenly started barking.
He later remembered how they had barked just like that in 2020, seconds before a smaller earthquake hit eastern Turkey.
"I felt I was shaking. I felt the house shaking, I felt the TV shaking," says Mr Koçer. He hid under a dinner table with the dogs and then rushed outside.
Mr Koçer left Diyarbakir and drove to the city of Gaziantep. He was shocked by scenes of destruction and victims enduring freezing temperatures in towns near the very epicentre of the quake.
At least 3,000 of the earthquake's victims died in Gaziantep.
"When holding the microphone, behind the camera or in front of the camera, I could not hold back my tears," Mr Koçer recalls.
Mr Koçer was touched by the influx of volunteers and rescue teams coming from Western Turkey, and he shared their stories on Twitter. Some of the survivors told him they received no aid for days. Similar complaints were cited across pro-opposition media outlets.
Visiting the earthquake-affected areas, President Recep Tayyip Erdogan told the people he would rebuild their cities. But he also warned that those spreading "fake news" and "causing social chaos" would be prosecuted, calling them "provocateurs".
Mr Koçer says that while he was reporting from the region hit by the earthquake, Diyarbakir police left a note at his apartment, instructing him to visit the police station and give a statement.
At the station, he was told that he was being investigated under a recently introduced disinformation law. He said the police questioned him about his reporting from the earthquake epicentre and accused him of spreading false information.
Turkey's new law was adopted in October. It criminalised the public spreading of disinformation and gave the state much broader powers to control news sites and social media.
The Venice Commission, a legal watchdog of the Council of Europe, said the law would interfere with freedom of expression.
Opposition parties call it a "censorship law".
'They don't like criticism'
Mr Koçer insists that he was meticulous in his work and interviewed all sides, from survivors to the police, the gendarmerie and rescue workers. "I did not share information without thorough research and analysis," he says.
Reporters Without Borders (RSF) called the investigation against Mr Koçer "absurd" and urged the authorities to drop it.
According to the Committee to Protect Journalists (CPJ), an advocacy group, at least three more journalists are facing criminal charges.
Merdan Yanardağ and Enver Aysever are prominent Istanbul-based political commentators with large social media followings. Both have criticised the government's rescue efforts. They're both under investigation along with Mehmet Güleş, who, like Mr Koçer, is based in Diyarbakir. He was detained on suspicion of "inciting hatred" for interviewing a volunteer critical of the government's rescue effort and later released, according to RSF.
The number of other journalists under investigation is unclear. On Tuesday, the police said they detained 134 people over "provocative posts" and arrested 25 of them, but their identities have not been disclosed. Some of those detained may well have been spreading falsehoods, including one that Afghan migrants had been scavenging in ruined neighbourhoods.
But critics say the clampdown has gone far beyond those spreading harmful disinformation.
"The government is trying to suppress information coming from the quake zone," says cyber rights expert Yaman Akdeniz who teaches at the Istanbul Bilgi University.
The arrests came after Turkey's presidential communications director warned against "lethal disinformation" jeopardising the rescue efforts. The directorate also rolled out a smartphone app called "Disinformation Reporting Service" encouraging people to report manipulative posts about the quake.
"Any time [Turkish] officials and the government are being criticised, they don't like it," says Arzu Geybulla, a journalist in Istanbul covering digital authoritarianism and censorship.
"But this time they are perhaps more vocal."
The BBC contacted Turkey's presidential directorate for communications asking about the journalists investigated and the calls by advocacy groups to drop investigations, but has had no response.