No Ukraine offensive without more weapons – Zelensky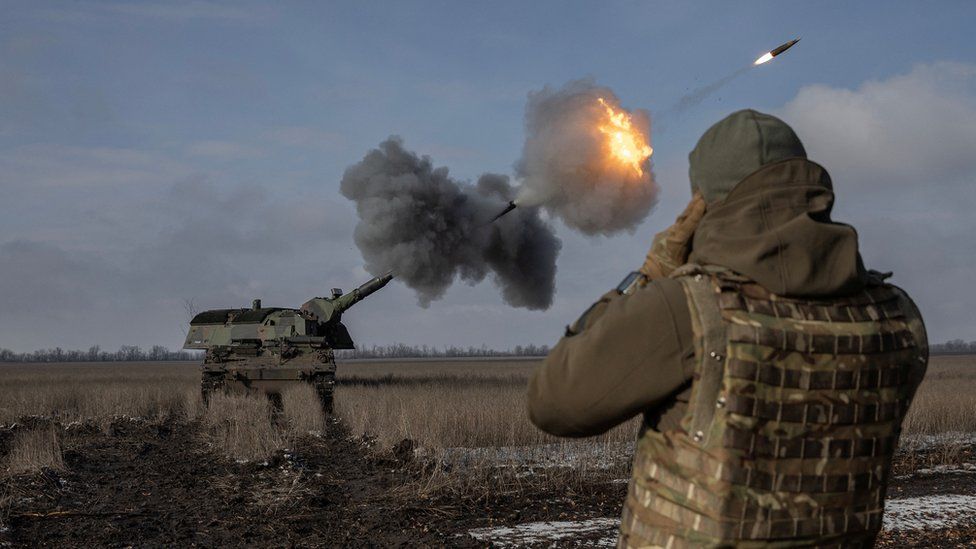 President Volodymyr Zelensky has said Ukraine's counter-offensive against Russia cannot start until Western allies send more military support.
He told a Japanese newspaper he would not send his troops to the front lines without more tanks, artillery and Himars rocket launchers.
In an interview with Yomiuri Shimbun, he said the situation in eastern Ukraine was "not good".
"We are waiting for ammunition to arrive from our partners," he said.
And when asked about the expected counter-offensive, he said: "We can't start yet, we can't send our brave soldiers to the front line without tanks, artillery and long-range rockets."
He added: "If you have the political will, you can find a way to help us. We are at war and can't wait."
There has been talk for some weeks of Ukraine launching a spring offensive against Russian forces. Ukrainian commanders have hinted it might be imminent. Oleksandr Syrskyi, commander of Ukraine's ground forces, said this week it might come "very soon".
Some analysts say Ukraine's military is talking up the idea of a counter-offensive to discomfit their Russian counterparts. They want Russian commanders to spread their forces thinly along the front lines, ready for any attack, rather than concentrate them in particular places, such as the eastern city of Bakhmut.
Other analysts believe a counter-offensive is possible soon. A US-based think tank, the Institute for the Study of War, last week suggested that Russia's own offensive was potentially losing momentum and concluded: "Ukraine is therefore well positioned to regain the initiative and launch counter-offensives in critical sectors of the current front line."
But President Zelensky is more pessimistic. He has often warned that the war could drag on for years unless Western allies speeded up the delivery of weapons. But this is the first time he has actually said the counter-offensive itself might be delayed by the lack of Western equipment.
His remarks reflect not only his desire to encourage more speed, but also his frustration at what he sees as the lack of haste.
Ukraine's allies have promised more tanks, artillery and longer-range missile systems. But some countries are struggling to deliver what they pledged, while others are taking more time than expected to get the equipment to Ukraine.
Western officials say military support is arriving, but admit training and planning is taking time. They also point to other factors such as muddy terrain making it hard for any army to start manoeuvring easily and break through front lines.
Such is the speculation about Ukraine's counter-offensive - in particular, when and where it might come - that the defence ministry has urged people to stop discussing potential plans.
Ukraine's Deputy Defence Minister Hanna Malyar claimed on social media that only three people had the right to disclose military plans publicly - the president, the minister of defence, and the commander in chief.
"All others can only quote them," she wrote. "Please stop asking experts questions about a counter-offensive on the air, please stop writing blogs and posts on this topic, please stop publicly discussing the military plans of our army."