Amsterdam launches stay away ad campaign targeting young British men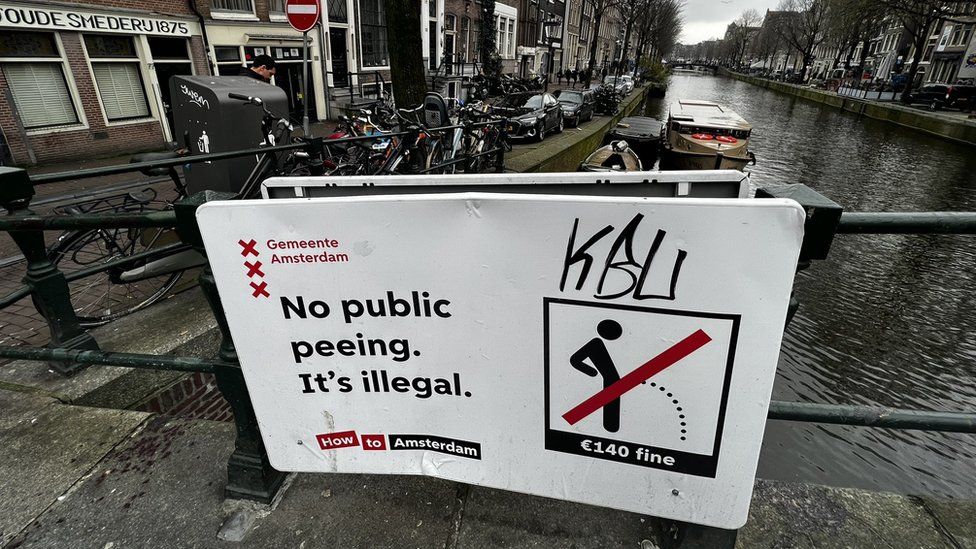 Amsterdam has warned rowdy British sex and drug tourists to "stay away".
A digital discouragement campaign targeting men aged 18 to 35 in the UK is being pushed out by the Dutch city's council.
The initiative forms part of efforts to clean up Amsterdam's raunchy reputation as Europe's most liberal party capital.
The online ads, highlighting the risks associated with the excessive use of drugs and booze, will be triggered when people in Britain tap in terms like - stag party, cheap hotel or pub crawl Amsterdam.
The message is uncompromising - a long weekend in Amsterdam may create the wrong kind of memories, the escapism you crave in the renowned party capital could result in inescapable convictions.
Brits can find return flights to Amsterdam for £50 (€57; $62).
UK-based travel agencies also offer stag weekends in Amsterdam, including canal boat cruises with unlimited booze, "steak and strip" nights and red light district pub crawls.
For years people have complained of drunken Brits urinating in public, throwing up in canals, stripping off and engaging in drunken brawls.
This is not a new phenomenon. Almost a decade ago, Amsterdam's then mayor invited his London counterpart Boris Johnson, who had described the city as "sleazy", to see for himself what Brits got up to.
"They don't wear a coat as they slalom through the red light district… they sing 'You'll never walk alone'. They are dressed as rabbits or priests and sometimes they are not dressed at all. I'd love to invite him to witness it," Eberhard van der Laan said at the time.
Critics argue the targeted ad campaigns are discriminatory and are based on unfair stereotypes.
In the Netherlands, coffee shops are allowed to sell cannabis as long as they follow certain strict conditions, like not serving alcoholic drinks or selling to minors.
"Tourists come for the museums and also for the coffeeshops," Joachim Helms, owner of the Greenhouse coffee shop, told me.
He nodded towards a woman in her 60s and pointed out his clientele came from all social and economic walks of life, arguing that attempts to exclude some based on their age and gender violated the principles of freedom, tolerance and equality that Amsterdam prided itself on.
But the narrow, cobbled, bike-laden streets and canals are under pressure.
Amsterdam is one of the world's most visited cities. Around 20 million visitors - including a million Brits - visit the city, which has a population of approximately 883,000, every year.
But over-tourism is testing the locals' tolerance and has compelled the council to act.
Larger-than-life billboards displayed in the red light district show photos of residents, with words reminding visitors: "We Live Here".
The council is in the process of moving the famous neon-lit windows, where sex workers parade for trade, out of the residential heart of the capital to a new "erotic zone".
Whispers about banning the sex trade entirely have faded for now. Instead, more stringent operating rules are being introduced.
Starting this weekend, brothels and bars will have earlier closing times and a ban on smoking cannabis on the streets in and around the Red Light District comes into force in May.
There is still debate about whether tourists should be banned from the Dutch capital's cannabis cafes.
Amsterdam's mission is to make the industry less seedy, more sustainable, and the city, more liveable.
But many locals living in the tall narrow townhouses that line the 17th-Century canal rings tell me it is not the young men who are the problem but the sheer numbers.
"It feels like we're living in Disneyland or a zoo," the Visser family told me.
Deputy Mayor Sofyan Mbarki said Amsterdam was already taking more management measures than other large cities in Europe.
"Visitors will remain welcome but not if they misbehave and cause nuisance," he added.
People have been responding to the anti-tourism campaign on social media, with one man joking it "looks more like a commercial to me" and another remarking it was a "mystery why 18-35 [year olds] would be attracted to a city with legalised drug cafes and brothels".
Others seem sceptical of the campaign, with one woman writing: "They want to make money with families and museums but they know it's weed and red light that keep the city running."