Bankers convicted of helping Putin's friend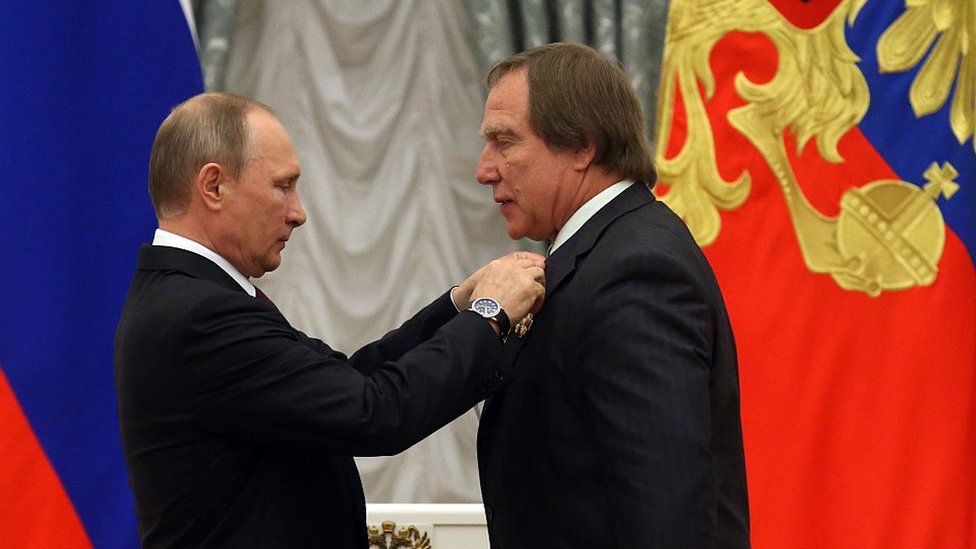 Four bankers who allowed a friend of Vladimir Putin to deposit huge sums in Swiss banks have been found guilty of lacking due diligence.
The former executives at the Zurich branch of Russia's Gazprombank were given hefty fines for helping musician Sergei Roldugin, nicknamed "Putin's wallet".
Mr Roldugin reportedly paid in around $30m (£24m) between 2014 and 2016.
He gave no credible explanation of where the money had come from.
Under Swiss law, banks are required to reject or close accounts if they have doubts about the account holder or the source of the money. Mr Roldugin, a cellist, is godfather to President Putin's eldest daughter, Maria.
The Russian leader has also awarded him the Order of Alexander Nevsky, an order of merit given out by the Russian Federation.
Three of the convicted bankers are Russian and one is Swiss. They were given fines totalling 741,000 Swiss francs (£655,600), suspended for two years.
The men, who cannot be identified under Swiss reporting restrictions, said they would appeal against the Swiss court's decision.
The Zurich court could not prove the four had doubts when the Russian musician turned up with millions of dollars. But the verdict says they should have, and failed to act.
It puts bankers across the country on notice that the due diligence laws will be enforced.
The judge in the Zurich court said it was beyond doubt that Mr Roldugin was not the true owner of the money that he deposited.
He said the four bankers who opened the accounts should have asked questions: Mr Roldugin had no apparent income, so where did the money come from?
Their sentences are mild, but this case has big implications. If the money wasn't Mr Roldugin's, whose was it?
The Russian president, now under Western sanctions, is rumoured to have vast wealth, some of it invested abroad.
There used to be a saying in Switzerland, when it was home to the funds of dictators, mafia bosses and drug barons, that money itself is always neutral. This verdict suggests those days are gone.