Roman Protasevich: Belarus pardons activist hauled off flight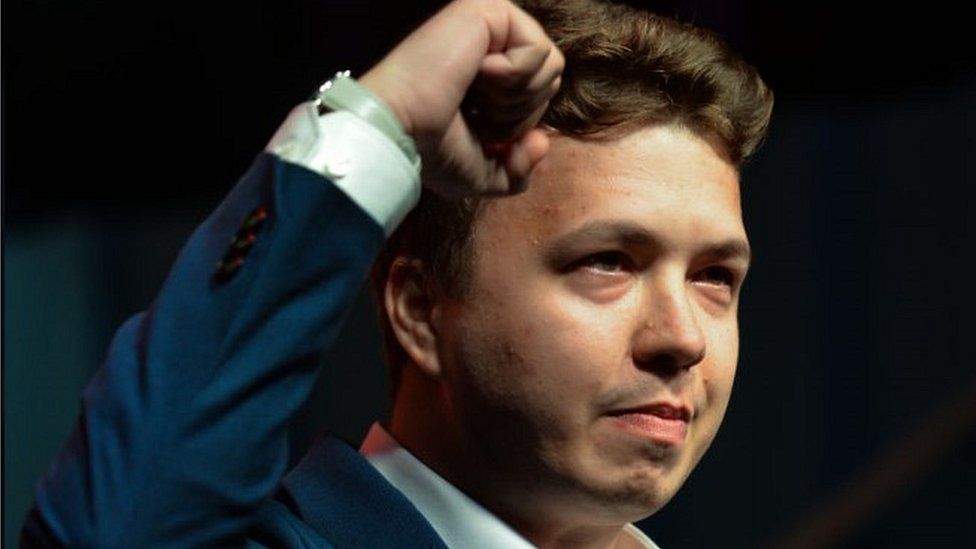 A Belarusian opposition activist arrested after his Ryanair flight was forced to land in the capital Minsk has said he has been pardoned.
Roman Protasevich was hauled off his flight and arrested on charges of inciting unrest in May 2021.
Earlier this month, he was sentenced to eight years in prison.
He thanked authoritarian leader Alexander Lukashenko for the pardon, amid questions as to whether he was forced to make pro-regime statements.
In a video released by state news agency Belta, Mr Protasevich said he had just signed "appropriate documents" for his pardon.
"I am incredibly grateful to the country and of course, to the president personally for such a decision," he said.
"This is, of course, just great news."
He said he had not yet made any plans but would probably go to "a quiet place in the countryside for a couple of days... in order to take a breather and start to move forward".
It is not clear how the journalist was treated by the security services but it is believed that after his arrest he was coerced into making confessions and apologetic statements on state TV.
Some opponents of the regime have accused him of collaborating with the authorities.
Mr Protasevich was editor of the Nexta Telegram channel, based in Poland, which published videos and information from the wave of giant street protests against Mr Lukashenko that began in the summer of 2020.
The charges he was sentenced for include: organising mass riots, calling for sanctions against Belarus, creating or leading an extremist group, and conspiring to seize power.
He was hauled from a plane and arrested alongside his then girlfriend, Russian citizen Sofia Sapega, in May 2021 after their flight from Greece to Lithuania was suddenly diverted to Minsk by Belarusian air traffic control. They claimed there was a bomb threat.
Ms Sapega was sentenced to six years in jail in May 2022 after a Belarus court found her guilty of inciting social enmity and discord. She was refused a pardon by Mr Lukashenko in January but has agreed to be extradited to Russia.
Mr Protasevich married another woman a month before Ms Sapega was sentenced.
The arrests caused an international outcry and led to the EU imposing sanctions against Belarusian leader Alexander Lukashenko.
Western countries accused Belarus of hijacking the Ryanair plane under the pretext of the bomb threat.