Belgorod raid: Who are the fighters infiltrating Russia from Ukraine?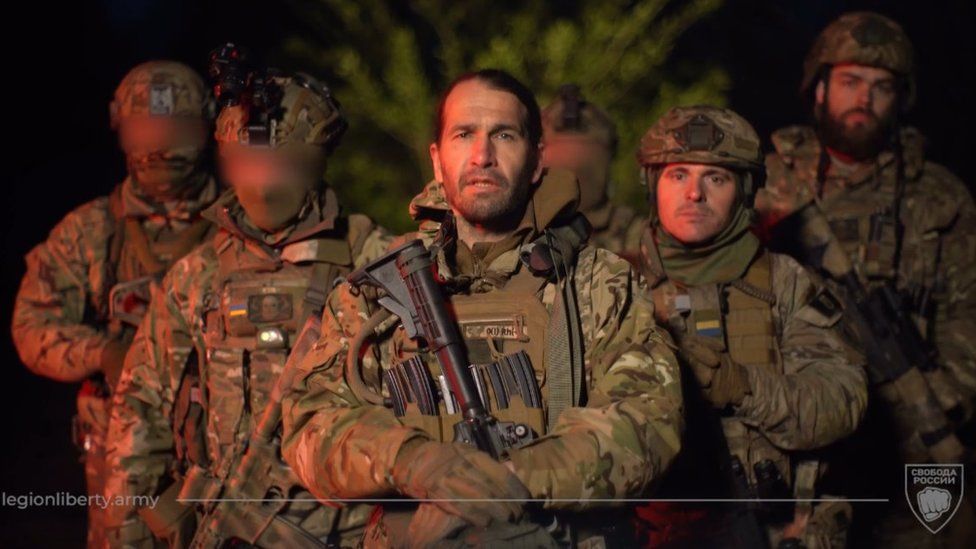 Fighters described by the Kremlin as "saboteurs" have crossed the border from Ukraine into the Belgorod region prompting a Russian "counter-terrorism" operation.
After two days of fighting, Russia says it surrounded the insurgents and killed more than 70 of them, pushing the rest back into Ukraine. It has dismissed them as Ukrainian militants but Kyiv says they come from two anti-Kremlin paramilitaries.
Ukrainian officials say they are Russian citizens from the Liberty of Russia Legion and the Russian Volunteer Corps (RDK) seeking to create a "security zone" for Ukrainians.
Both groups have in the past been described as part of an international legion involved in Ukraine's territorial defence.
Andriy Yusov from Kyiv's intelligence directorate said both groups were working "autonomously on the territory of Russia" and Ukrainians were not involved, while Ukrainian TV said they were militiamen and "Russian volunteers".
The Russian Volunteer Corps (RDK) came to prominence in March 2023, taking part in a cross-border raid in Russia's Bryansk region which it said involved 45 people.
Unconfirmed Russian reports spoke of shooting, casualties and hostages while the RDK said it had crossed the border to call on Russians to rebel against their government. The group said it had taken no hostages and retreated safely on to Ukrainian territory.
Its leader is known as Denis Kapustin or Denis Nikitin, a Russian nationalist, and the group openly espouses a mono-ethnic Russian state.
In 2020, a Ukrainian investigative website alleged he had links to neo-Nazi groups and Nikitin has spoken in the past of belonging to a movement of football hooligans.
His RDK group accuses Russia's mainstream opposition of sitting on the fence in the Ukraine war.
Another corps member, named Fortuna, told Ukrainian media last November that they numbered 120 people: "We are a voluntary unit, we are not conscripts or contract servicemen like Ukrainian citizens."
The Liberty of Russia Legion (FRL) is a very different organisation that fights alongside Ukrainian troops against Russian forces. It uses a white-blue-white flag, seen by part of the Russian opposition as the flag of "free Russia".
Volunteer corps leader Denis Nikitin said that while they both sought the "toppling of the Putin regime", the legion's fighters were more inclined to call themselves centrists.
However, on 22 May the legion announced it had "liberated" the Russian village of Kozinka, just across the Ukrainian border and to the south-west of Belgorod. "The Legion and the RDK continue to liberate the Belgorod region," it claimed.
"Once again, the myth that Russian citizens are safe and the Russian Federation is strong has been destroyed," it added.
It then posted videos of balloons carrying its flag over Moscow.
The size of the legion is unclear but according to its website, it claims to be "fighting in full co-operation with the Armed Forces of Ukraine and under the leadership of the Ukrainian command".
A member known as Caesar, who is arguably its best-known soldier, has insisted "there are no people in the legion who were forced to join it" and all members were contract soldiers with Ukraine's international legion.
Although he said a small number were Russian soldiers who had surrendered to Ukrainian forces, they had done so precisely to switch sides.
Reacting to Moscow's decision to label it a "terrorist organisation", it pointed out that it had earlier been denounced as non-existent.
There is some doubt over the military significance of the two groups. Ukrainian pundit Volodymyr Fesenko said there several different units and they appeared more about public relations than real action.
Former Russian MP Ilya Ponamarev, who is now a Ukrainian citizen, said on Facebook in August 2022 that the legion, the volunteer corps and another group called the National Republican Army had signed a declaration agreeing the common goal of liberating Russia from the rule of Vladimir Putin.