Auschwitz Museum condemns Polish ruling party video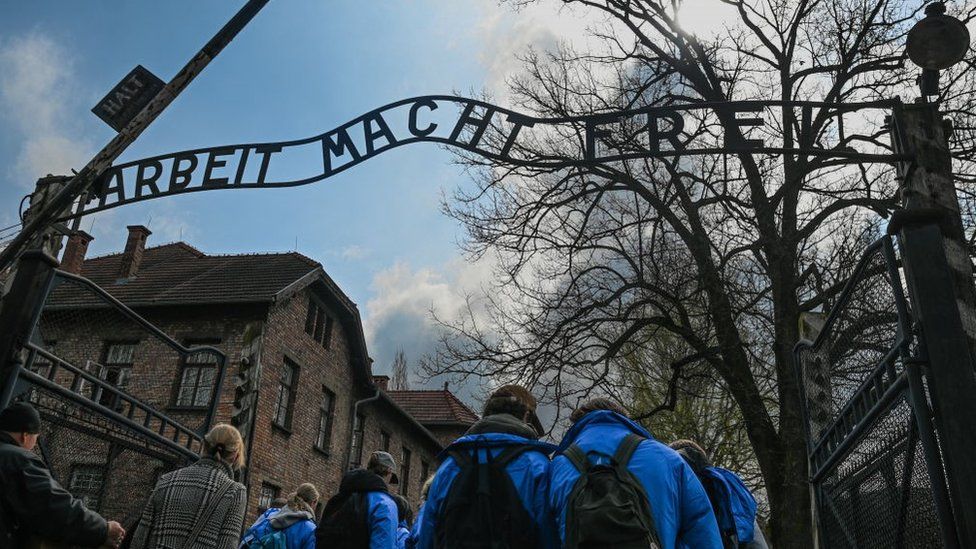 The museum at Auschwitz concentration camp has denounced Poland's governing party for using an image of the camp in a political campaign.
The ruling Law and Justice Party (PiS) posted the video on social media aiming to stop people from attending an opposition march on Sunday.
It was in response to an opposition-supporting journalist who tweeted that the president belonged in a "chamber".
The journalist, Tomasz Lis, insists that he meant a prison cell.
But the ruling party claimed Mr Lis was saying PiS leader Jaroslaw Kaczynski and President Andrzej Duda, a PiS ally, should be sent to a gas chamber.
The video features a background image of the Auschwitz camp's notorious "Arbeit macht frei" (Work sets you free) front gate and one of Mr Lis's tweet, before asking: "Do you really want to march under this slogan?"
The Auschwitz Museum has condemned the video.
"The instrumentalization of the tragedy of people who suffered and died in the German Nazi Auschwitz camp - on either side of the political dispute - is an insult to the memory of the victims," it wrote on Twitter.
"It is a sad, painful and unacceptable manifestation of the moral and intellectual corruption of the public debate."
PiS's decision to use Auschwitz in the video has also been criticised by some of the party's supporters.
And President Duda tweeted that the victims of the Holocaust cannot be used in political campaigning.
"The memory of the victims of German crimes in Auschwitz is sacred and inviolable. The tragedy of the millions of victims cannot be used in political struggle. This is an unworthy activity and there is no excuse for it," Mr Duda wrote.
The Nazis murdered over 6 million Jewish people across Europe during the Second World War. 1.4 million of those - including a million Jewish people - died at the Auschwitz camp in occupied Poland.
You may also be interested in: