Ukraine war: Zelensky admits slow progress but says offensive is not a movie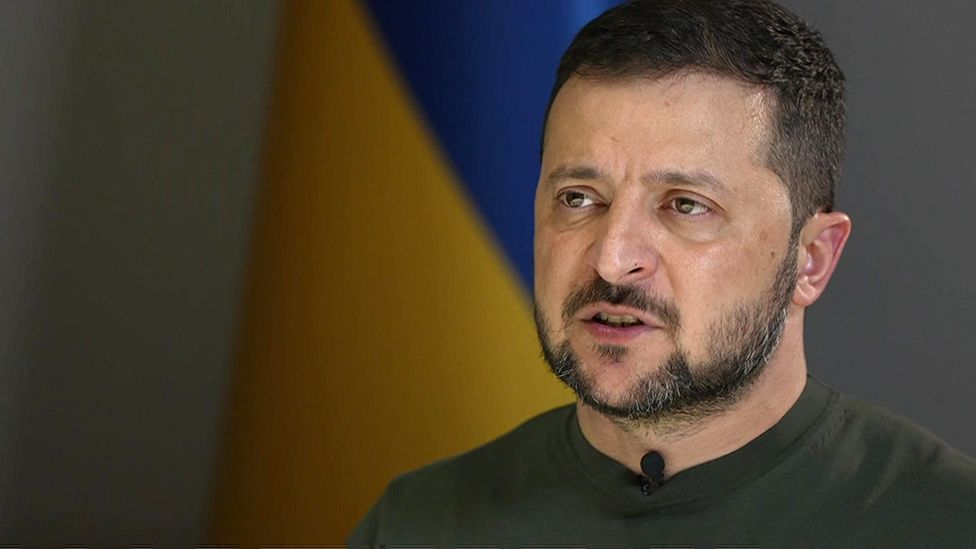 President Volodymyr Zelensky has acknowledged battlefield progress has been "slower than desired", weeks into Ukraine's military offensive to recapture areas occupied by Russia.
"Some people believe this is a Hollywood movie and expect results now. It's not," he told the BBC.
"What's at stake is people's lives."
Ukraine says its counter-offensive has reclaimed eight villages so far in the southern region of Zaporizhzhia and Donetsk to the east.
Mr Zelensky said the military push was not going easily because 200,000 sq km (77,220 sq miles) of Ukrainian territory had been mined by Russian forces.
"Whatever some might want, including attempts to pressure us, with all due respect, we will advance on the battlefield the way we deem best," Mr Zelensky added.
He reinforced the need for Ukraine to be given security guarantees from Nato but said ultimately the goal was membership of the defensive alliance.
Nato's secretary general made clear this week that no plan was on the table to issue an invitation to Ukraine at next month's summit in Lithuania.
"[Jens] Stoltenberg knows my position," the Ukrainian leader said "We've told them numerous times: 'Don't knock the ground from under our feet.'"
The Ukrainian leader again made the case for Ukraine to receive US-made F-16s and said he believed fighter pilots could start training as soon as August, and that the first jets could arrive in six or seven months' time.
Mr Zelensky was speaking to the BBC to mark a Ukraine Recovery Conference in London focusing on the role the private sector can play in rebuilding his country. He later spoke at the conference, along with UK PM Rishi Sunak.
Ukraine's economy shrank by 29.2% in 2022 and earlier this year the World Bank estimated the cost of reconstruction and recovery at $411bn (£339bn).
The Ukrainian leader told the BBC that the support he needed was not just for recovery but for transformation as well.
He said "quick steps" to be done immediately included finding places for people to live, rebuilding the destroyed Kakhovka dam and decentralising the energy network.
"But on the larger scale we are speaking about the transformation of Ukraine," he explained. "This is Ukraine not only with its energy and agriculture and industrial complexes, but with its reforms we can see."
He spoke of "the digitilisation of Ukraine" as well as judicial and anti-corruption reforms.
When I asked him what the endgame of the war looked like at this stage, he made clear that "victories on the battlefield are necessary" and that Ukraine would never sit down with whoever was president in Moscow, if Russia remained on Ukraine's territory.
"No matter how far we advance in our counter-offensive, we will not agree to a frozen conflict because that is war, that is a prospectless development for Ukraine."
Russia announced a few days ago that it had moved tactical nuclear weapons to Belarus and President Joe Biden has warned that the threat of Vladimir Putin using them is real.
So I asked Mr Zelensky if he was worried by that threat.
"Putin has been dangerous for us since 2014 when he occupied the first of our territories," he said.
"He will talk about the use of nuclear weapons, I don't think he is ready to do it because he is scared for his life, he loves it a lot. But there is no way I could say for sure, especially about a person with no ties to reality, who in the 21st Century, launched a full-scale war against their neighbour."
I also asked for his reaction to President Putin telling an international conference in St Petersburg last week that he was a disgrace to the Jewish people. Mr Zelensky lost many of his relatives in the Holocaust, including his grandfather, and it was clear that he was taken by surprise by the question.
He took a deep breath, put his head down and a few seconds later said he wasn't quite sure how to answer the question.
"It's like he doesn't fully understand his words. Apologies, but it's like he is the second king of antisemitism after Hitler.
"This is a president speaking. A civilised world cannot speak that way. But it was important for me to hear the reaction of the world and I am grateful for the support."