Guernsey chief minister Lyndon Trott meets UK minister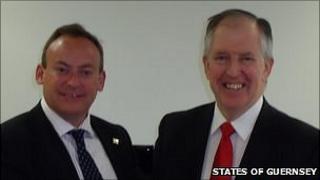 Guernsey's chief minister has hailed a "very constructive" meeting with the UK politician who is now responsible for the Crown Dependencies.
Lord McNally became Minister of State, at the Ministry of Justice, following the UK election in April.
Deputy Lyndon Trott said: "We had a very constructive conversation on a wide range of issues relevant to the Guernsey-UK working relationship.
"I am looking forward to working with him over the coming months and years."
During his visit to London, Deputy Trott said he also spoke with a number of other high profile politicians including the Speaker of the House of Commons Jon Bercow and former Chancellor of the Exchequer Alistair Darling.
He said: "It has been an extremely useful visit to London.
"Aside from meeting the new minister, I have had the opportunity to brief a number of very influential UK Parliamentarians on issues of direct relevance to the people and economy of Guernsey.
"We already have strong relationships across the new coalition government in the UK - this visit was about building even stronger relationships with the government and across the UK Parliament."