Aurigny Air Services could be sold to Blue Islands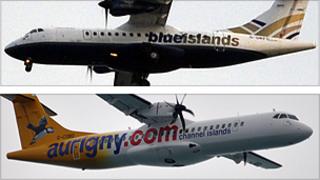 Blue Islands is in discussions to buy rival airline Aurigny from the States of Guernsey.
The airline signed an "in principle" agreement with the Treasury and Resources Department to further develop terms for the possible sale.
Both parties have agreed to undertake comprehensive due diligence before any firm agreements are put in place.
Assuming a joint decision is reached, it will be subject to the approval of the whole of the States.
Derek Coates, chief executive officer of the Healthspan Group which owns Blue Islands, said he believed neither airline was viable in the longer term if they continued to run as two separate organisations with the associated high and duplicated costs.
He said: "The underlying costs and overhead structures of airlines continue to increase year on year as regulation within the industry becomes more complex."
Both parties have agreed a mechanism by which Guernsey's London Gatwick slots would be protected.
They said this was for the benefit of all islanders and the economy as a whole and that a merger between the two airlines would also preserve competition on the key Gatwick route, create a viable inter-island operator and relieve the taxpayer of footing the bill of the continuing losses at Aurigny.
Treasury and Resources Minister Charles Parkinson said: "In our view it is not the job of government to own an airline particularly where a private sector option exists.
"Government should simply be there to ensure that transport policies have the island's interests at heart. These include the protection of our lifeline routes.
No alternative aircraft
"As the shareholder representative I would, on behalf of my board, like to put on record our appreciation of the dedication, hard work and loyalty of the Aurigny Group's management and staff."
Mr Coates said: "If a final agreement is reached later this year and approved by the States it would be our intention to merge the two airlines, invest heavily in new more fuel-efficient aircraft and eventually phase out the old Trislanders as they reach the end of their natural lives.
"We will keep the best of the Trislander fleet to service Alderney, where there is currently no realistic alternative aircraft. We believe that by doing this we can return the airline to profitability within two years."
The sale would involve the purchase of Cabernet Limited, the parent company of Aurigny Air Services and Anglo Normandy Aeroengineering, an aircraft maintenance and repair facility based in Guernsey.
The States agreed to buy the group for about £5m in May 2003.
Aurigny, the Latin name for Channel Island Alderney, was started in 1968, employs about 290 staff throughout the Channel Islands, UK and France and earlier this year it carried its nine millionth passenger.