Volunteers help clean Guernsey's coast of litter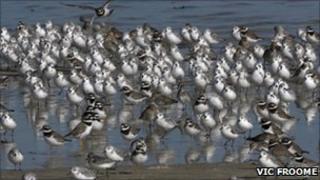 Volunteers have been helping to clean Guernsey's coastline of litter.
Families and voluntary organisations have been picking up litter from the coastline using gloves and plastic sacks.
The States of Guernsey said it wanted people to pick-up plastic, which takes up to 1,000 years to bio-degrade, to improve wildlife habitats.
The Guernsey Coastal Clean-Up is part of celebrations for the International Year of Biodiversity.
It is hoped the clean-up will benefit Guernsey's sea birds including waders such as Oyster Catchers and Curlews.
Minister for the Environment, Deputy Peter Sirett said: "Coastal litter is on the increase and we see a lot of marine litter washed up around the island.
"Anyone can get involved and all help will be appreciated, not just by residents and visitors but also Guernsey's wildlife."