Guernsey beaches cleared of excess seaweed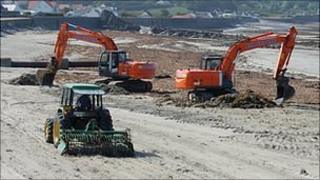 Guernsey's L'Eree beach has been cleared of a large bank of seaweed on Thursday, following a build up above the high water mark.
The Environment Department said the work was eco-friendly as the seaweed would be moved to the water's edge where wave action takes it out to sea.
It said the seaweed was a valuable food source for wading birds and removing it would jeopardise their habitats.
Clearances were also due to take place at the beaches at L'Ancresse and Cobo.
The department said the build up, which was caused by spring tides and south-westerly winds, would not be naturally removed by tidal action for several weeks.
It said in the past the seaweed washed onto Guernsey's beaches was a valuable resource for farmers and growers as fertilizer, but this was now only done by a handful of individuals.
It said that beach users were not keen on the weed, which becomes smelly when it decays.
It said as the tides would disperse the seaweed it would help to prevent degradation and loss of beach material, such as sand and pebbles.