Closure of Grange is 'essential', says Guernsey States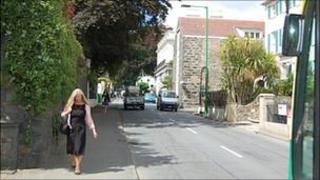 Guernsey's Public Services Department has defended closing one of the major routes into St Peter Port for a month as "essential".
The Grange shuts to all traffic from Saturday and residents will have only limited access to their properties.
Guy Reades, from the department, said the work was essential and would be completed in stages.
He said he hoped residents and businesses would understand why it was necessary to close the road.
People living and working in the area will only be able to access properties by car before 0830 BST in the morning, between 1230-1330 BST and after 1630 BST each day.
Mr Reades said: "Basically it's to resurface the road, which is in a bad state of repair.
"We're also taking the opportunity to replace the kerbs with a drainage system integrated into the kerb, which will hopefully reduce maintenance in the future and reduce closures."