Engine failure affects Condor Ferries sailings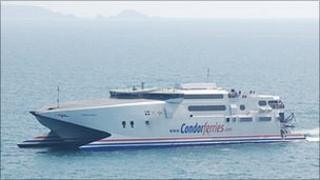 Ferry services between the Channel Islands and the UK have been rescheduled after a ferry's engine failed.
A minor technical fault on one of Condor Express' four engines caused the changes to services on Thursday.
To limit potential damage to the engine while the fault is being investigated, the ship is operating at reduced power.
Simon Edsall, managing director of Condor Ferries, apologised for any disruption.
He said: "We apologise for any inconvenience for this unforeseen technical failure and the resulting amendments to our schedule that this has caused. We have kept our customers fully informed and tried to minimise the impact of the delays."
Schedules have been rearranged and the company said it was directly informing passengers of the changes via phone call or text message.
Mr Edsall said further information would be made available as more detail of the fault and the likely repair time became known.