History made as cargo boats berth at Alderney harbour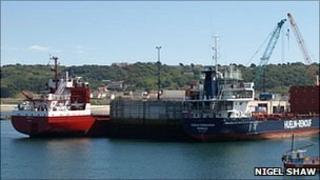 For the first time in history two large cargo boats have berthed in Alderney's Braye Harbour at the same time.
The Jan V and Huelin Endeavour, which are both longer than 80m (260ft), both visited the island on Tuesday and again on Thursday.
Harbour master Steve Shaw said: "Prior to the reconstruction of the quay this would have not been possible.
"Clearly the ability to berth large cargo ships is of considerable benefit to the harbour and island community."