Engine fault continues to affect Condor Ferries sailing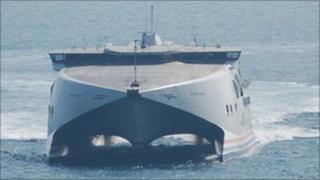 Changes to the scheduled ferry services between the Channel Islands and the UK will continue for three further days.
A minor technical fault on one of Condor Express' four engines mean it has operated on reduced power since Thursday and will continue to do so until Sunday.
Simon Edsall, Condor Ferries' managing director, apologised for any disruption the schedule changes caused passengers.
The fault has been identified as with an engine bearing.
Mr Edsall said: "We apologise for any inconvenience for this unforeseen technical failure and the resulting amendments to our schedule that this has caused.
"Where possible we have transferred passengers onto Condor Vitesse sailings between Jersey, Guernsey and Poole to minimise customer delays."
The Express is operating on reduced power to limit potential damage to the engine.
Schedules have been rearranged and the company said it was directly informing passengers of the changes via phone call or text message.