Retail space in Leale's Yard needs to be cut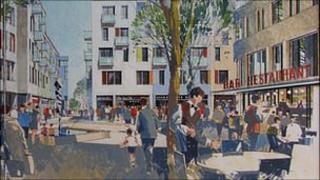 The plans for the Leale's Yard development in St Sampson need to be cut back, according to Guernsey's Environment Department.
It has considered the latest proposals for a retail and residential development on the Bridge.
The Co-op and developers Leale's Yard Limited are behind the project and first submitted plans last April.
The department agreed with concerns over the amount of retail space and suggested it could be cut by about 20%.
It also raised questions about the height of the development and said it hoped by reducing the number of shops, the overall size of the development could be reduced.