Sale offer for Guernsey's historic post office building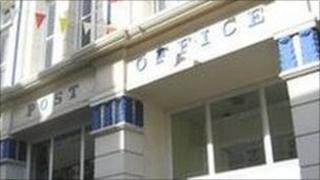 The old post office building in Guernsey could finally be sold - two years after it was put on the market.
The States said Nelson Place in Smith Street, St Peter Port, is now under offer with a 12-month option.
This reserves the building for the prospective buyer, Ossory Estates Limited, for a year while redevelopment negotiations take place.
The building was put up for sale as part of Guernsey States efforts to rid itself of assets it no longer needs.
Sympathetic development
Large retail units are mostly expected to occupy the redeveloped site.
The Nelson Place building has historic importance in the town and the preservation of architectural features, particularly the frontage, will have to be addressed in a sympathetic manner, officials have said.
Ossory spokesman Brett Allen said meaningful discussions can now take place regarding the redevelopment with both the Environment Department and potential retail occupiers.
"We shall be working hard to achieve a result for the benefit of the States and to diversify the retail opportunities on offer in the town," he said.
The estimated sale price of the building in 2008 was about £3m.