Aurigny's Trislanders 'will last until 2034'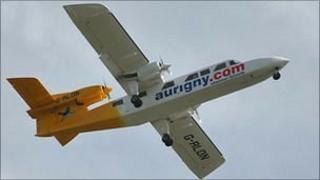 Aurigny's Trislanders will last until 2034, the managing director of the Guernsey States-owned airline has said.
Malcolm Hart was speaking in response to comments that the aircraft were reaching the end of their useful life.
He said the planes had a flying life of 70,000 landings rather than the 39,000 landings quoted by other parties.
Mr Hart said the airline's Trislanders had a longer lifespan than would normally be expected due to the "benign" nature of the routes.
He said: "The Aurigny Trislanders have what is known as an 'extended fatigue life', which was agreed between the manufacturers Britten Norman and the CAA [Civil Aviation Authority] in 1987 due to the relatively benign over-water operations for which they are used."
"In our fleet of six Trislanders there are aircraft with up to 24 years additional service capability, while Joey has nearly 20 years left in him," he added.
The plane with resignation G-Joey is the airline's pin-up plane and mascot.
Mr Hart said he also wanted to remind passengers that there are no planned changes to any of the scheduled services and people should remain confident of travelling with the airline.
The States are currently undergoing a two month due diligence with Blue Islands, which may lead to the rival airline purchasing Cabernet Limited, the parent company of Aurigny Air Services and Anglo Normandy Aeroengineering.