Measures at Guernsey's Mont Cuet tip 'seem to work'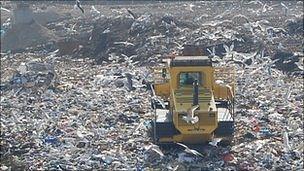 New measures to reduce problems at Guernsey's Mont Cuet landfill appear to be working, the Public Services Department has said.
Residents in the area voiced concerns about issues like wind-blown litter and smell with fears they would only escalate as the tip nears capacity.
Netting has been put up around a quarter of the site to catch rubbish.
Rob Roussel, senior project manager, said the netting was a barrier but staff had to collect what it captured.
He said some rubbish would still escape the site, but that the amount had been greatly reduced.
The landfill is due to reach capacity in 2019 and currently the States of Guernsey has no strategy in place to deal with the island's waste after that time.
Related Internet Links
The BBC is not responsible for the content of external sites.