Guernsey history inspires Nazi zombie horror film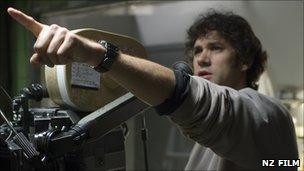 Events from Guernsey's history were the inspiration for a fictional Nazi zombie horror film being filmed in New Zealand, its director has said.
Director Paul Campion said he was inspired by the island's heritage when he visited to screen a short film.
Mr Campion said his first feature-length film, called The Devil's Rock, is set in the Channel Islands on the eve of D-day during World War II.
His inspiration came from the war and reported witchcraft on the island.
The fictional film is based around bunkers and fortifications built by the German occupying forces in WWII and the use of black magic to conjure up demons and the undead.
Mr Campion said: "It's about two commandos who are sent on a sabotage raid to the Channel Islands to distract Hitler's attention away from Normandy who uncover a Nazi plot to use black magic to try and win the war.
"It's based on a certain amount of fact as the Special Boat Service were raiding the Channel Islands around time.
"I found out about these books of black magic, which are supposed to exist in the Channel Islands, and started building a story about that and the German fortifications."
The film is due to be released before the end of 2010 or early in 2011.
Related Internet Links
The BBC is not responsible for the content of external sites.