Future of St Peter Port harbour under discussion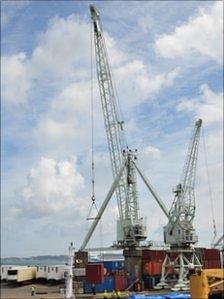 The States of Guernsey discusses how St Peter Port harbour can remain open while essential work is carried out.
A project for strengthening work to be carried out on the jetty to allow new cranes to be installed has been on the States agenda since 2008.
Harbour master Peter Gill said the harbour was a vital freight gateway and it was important the port remained open during the work.
A two day workshop aims to find the best option for the work.
Captain Gill said: "What people need to realise is that 98% of all that arrives or leaves this island comes through those jetties and we cannot afford to let them fall into a state of disrepair.
"Some of the options take up a lot more time but are cheaper, some of the options will take a shorter time period but are more expensive.
"There is no point putting new cranes on the top of jetties which are of a similar age and similar conditions, so we've got to repair the jetties and then put new cranes on top.
"It's a case of working out what the right solution is that takes the project forward in such a way that we get the work done before, dare I say it, any of the cranes pack up."
The five cranes are between 35 and 60-years-old and are expected to be replaced by two cranes costing about £1.25m each.
Captain Gill said: "We believe with the advances in technology that two new cranes can do the work of the existing five.
"One of the biggest problems we've got is that the port is a very inefficient in terms of there is very little space, it's extremely congested.
"Partly because of the design of the cranes and we're looking to improve the layout so that we can have a safer place to work."
He said it was likely to be at least a year before any physical work on the project began.
Related Internet Links
The BBC is not responsible for the content of external sites.