Cash needed for Guernsey Battle of Britain air show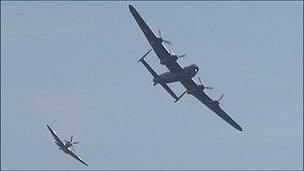 Another £10,000 is needed to fund the 2010 Battle of Britain display, the Guernsey Royal Air Forces Association has said.
Three quarters of the £40,000 cost for the display on 9 September has been raised by the air display consortium.
Association president Alan Brunger said without the support of the community the display would never go ahead.
He said: "We are extremely grateful for the support that they give to us each year."
Mr Brunger said: "A lot of people in Guernsey think the air display is free, but I can assure them it is not and if it were not for the consortium there would be no display."
The display, which this year marks the 70th anniversary of the Battle of Britain, is due to feature aircraft from World War II including the Spitfire, Hurricane and Lancaster, modern aircraft such as the F-16 Typhoon and display groups including the Wing Walkers, The Blades and culminating with the Red Arrows.
It will be the first time the a Lancaster bomber has taken part in the display since 2004.
The display is due to take place in the skies above St Peter Port between 1100 and 1315 BST.
Related Internet Links
The BBC is not responsible for the content of external sites.