Guernsey football trophies moved to safety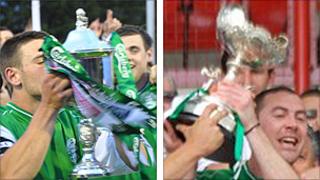 Two Guernsey football trophies have been moved to a secure location after a break-in at where they were kept.
The Guernsey Football Association's headquarters at Corbet Field was one of several sporting clubs targeted by thieves in recent weeks.
One was the priceless Muratti Vase trophy, which Guernsey, Jersey and Alderney have played for since 1905.
The National League System Cup, which Guernsey won to represent England in the Uefa Regions Cup was the other.
Guernsey beat Jersey 1-0 in the Muratti final on 8 May, the same score line of the 1905 final, which was the first time in five years that Guernsey had won the trophy.
A week earlier Guernsey, representing the island's top league, beat the Liverpool County Premier League 5-2 to win the FA National League System Cup final.