Mini sweeper tackles litter in Guernsey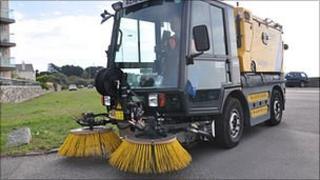 Guernsey States Works has invested in a new smaller sweeper to pick up litter in St Peter Port.
The mini mechanical sweeper is able to clean less accessible areas and collect smaller items such as cigarette butts.
General manager Nigel Dorey said many of the town's private car parks and small streets were currently swept by hand.
He said those workers would now be available to litter pick on the steps and other areas machines could not go.
Mr Dorey said: "We will also be able to offer, for the first time, a service for sweeping underground car parks, which until now we have been unable to with the larger machines."
The sweeper measures 1.3m (4ft) wide by 2m (6.5ft) high.