'Natural solution' for smell at Guernsey landfill site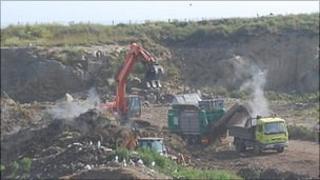 There is a natural solution to the problem of smell at Guernsey's landfill site, according to one local company.
Complaints about the smell and increased litter around Mont Cuet have increased in recent years.
The concerns have grown amid uncertainty over how the island's waste will be dealt with in future as a new strategy is currently being developed.
Green Homes Guernsey said it believed it could use a bacteria to at least reduce the unpleasant odours.
David de Carteret, managing director, said: "It's a friendly bacteria... [it] out competes the bacteria that produces the smell."
He said the bacteria also contained a natural fly repellent and helped to speed up the degradation of certain materials.
Mr De Carteret said recent trials of the product, which is produced by a UK company, had proved "highly successful" and the company would be taking its proposal to the Public Services Department.
In February a planned waste-to-energy plant central to the island's waste strategy was cancelled by the States and Public Services were asked to form a new strategy from scratch.
At current levels of dumping the landfill is expected to last until 2019.