Islanders asked to avoid L'Ancresse Common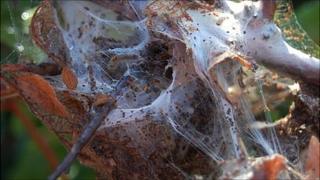 Islanders have been asked not to pick fruit on Guernsey's L'Ancresse Common while chemical treatments are used to deal with the brown tail moth.
Experts advised landowners in the area, including States departments, to treat affected bramble bushes.
The moth's larvae feed on the bushes, which are home to the caterpillar stage's white cocoon silk 'tents'.
Signs are due to be put up to show that areas have been sprayed.
The States said the public was strongly advised not to pick any fruit such as blackberries, brambles or rosehips as the hairs on the creatures can cause serious skin irritations.
Affected areas have been identified in the area south of the Chouet Kiosk, south of the golf course, areas on the golf course and on land around La Jaonneuse.
The Environment Department said the caterpillars were vulnerable at this early stage of the life cycle and if treated now the infestation should be greatly reduced.
It said prompt action should stop large numbers of the caterpillars maturing to "woolly bears" next summer, each has up to two million of the rash and itch causing hairs.
The treatment is applied to the vegetation that the caterpillars feed on. Once they ingest it they usually die within 24-48 hours.