Alderney's Connaught Care Home work 'on schedule'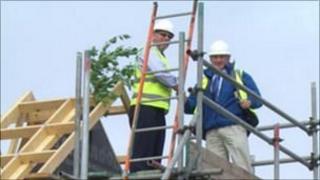 Alderney's new Connaught Care Home is on schedule for completion, the project manager said as a topping out ceremony took place on Monday.
David Oliver said: "Despite earlier setbacks, it is progressing extremely well and on target for completion and occupation in the spring 2011."
He said the ceremony "celebrates and marks the completion of the one of the most significant phases of the build".
The £2.5m project was funded from Alderney's Gambling Control revenues.
Mr Oliver added: "People will now be able to see the structure coming together in its entirety."
The ceremony, a traditional one when constructing timber frame buildings, saw a leafy branch fixed to the final beam before that was fixed to the roof. It is believed to bring the building good luck and ward off ill feelings.