Condor 10 ferry is to return to Channel Islands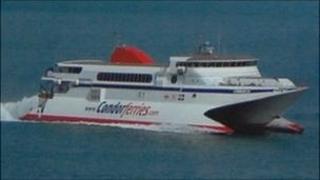 Condor 10 is being brought back into service between the Channel Islands and the UK as a temporary replacement for the damaged Condor Vitesse.
Two of the Vitesse's four engines are damaged and it was due back on routes from Friday.
However, repairs will not be completed in time and the 10 is being readied to replace it.
Managing director Simon Edsall said: "Our aim is to minimise the impact felt by our passengers."
He said: "Unfortunately we will have to issue a revised schedule this weekend.
"Passengers whose departure times are changed by more than four hours will receive a 50% refund of the cost of the affected leg or have the option to cancel and receive a full refund."
Mr Edsall said Condor Ferries was contacting customers affected by these changes individually.
Condor 10 was retired in June after it was replaced by the Condor Rapide.