Guernsey bus fares 'due to go up anyway'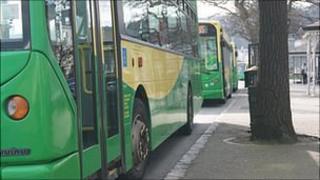 Guernsey's bus fares were due to be increased even before a UK consultancy firm recommended the move.
Tribal is expected to receive 6.5% of the increase in the price of a single journey, which went up by 40p to £1 in August.
Last year its review of States spending came up with tens of millions of pounds in efficiency savings.
However, the Environment Department deputy minister said a rise was already on the cards.
Deputy Jenny Tasker said: "It was something we had had on our to-do list for a while and it came in response also to the fundamental spending review, that we're going through at the moment.
"We did have that as a suggestion that came forwards, but I must confirm that the Environment Department was planning this as well because we do need to try and make the bus subsidy less than it is at the moment."
The company Tribal listed an increase in bus fares amongst several methods to reduce the gap between the island's income and its spending.
It is on a risk and reward deal and will receive a percentage of any savings for any successful recommendations, although the full details of the deal are unknown.