Events mark sinking of HMS Charybdis and HMS Limbourne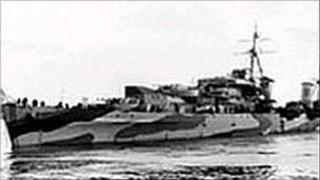 Events have taken place in Guernsey to mark the sinking of HMS Charybdis and HMS Limbourne during World War II.
More than 20 bodies from HMS Charybdis washed up in Guernsey after it was torpedoed by German forces in 1943.
The bodies were buried with full military honours at Le Foulon Cemetery by the island's German occupiers.
As part of the commemorations, a memorial ceremony took place at cemetery on Sunday afternoon.
The Charybdis was sunk on 23 October 1943. About 460 lives were lost and the bodies of 21 sailors and Royal Marines were washed up on the Guernsey coast within days of the sinking. Only about 100 of the crew were rescued.
HMS Limbourne was torpedoed on the same day, resulting in the loss of more than 40 crew. It was later deliberately sunk to prevent it from falling into enemy hands.