Defaced holocaust plaque repaired in Guernsey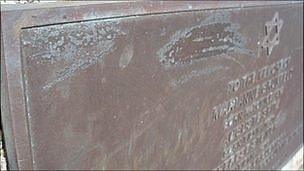 A Guernsey memorial plaque put in place 10 years ago is being restored after being vandalised.
The plaque, in memory of three Jewish women deported during the Occupation in World War II, will undergo specialist cleaning and restoration.
Helen Glencross, historic sites curator for Guernsey Museum, said it was sad it "hadn't been treated as it should".
She said: "The women later died in Auschwitz, I think it's very symbolic of the holocaust."
Mrs Glencross said: "Therefore it has a lot of meaning to many people."
All three women, Marianne Grunfeld, Auguste Spitz and Therese Steiner, were deported to France on 21 April 1942, nearly two years after the island had been taken over by the German military forces.
The surface of the metal plaque has deteriorated due to exposure to the elements as well as damage caused by scratches to its surface.
Related Internet Links
The BBC is not responsible for the content of external sites.