Bailiwick to receive seasonal flu vaccine in November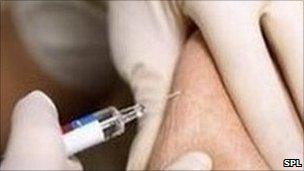 A seasonal flu vaccine containing protection against swine flu is due to arrive in Guernsey in early November.
According to the States', there has been a slight delay in its arrival because of factory packaging issues.
The vaccine will be available to people aged 65 and over, those with chronic health conditions and anyone caring for the elderly.
States Prescribing Advisor Geraldine O'Riordan said: "We're doing all we can to get supplies as soon as possible."
Once they arrive, adverts will be placed in the Guernsey Press and Alderney Journal to alert the public.
However, islanders are being urged to wait until they see the adverts before contacting their surgery to make an appointment.
The States added that although the vaccine is provided for free by the Social Security Department, there will be a charge for the doctor or nurse consultation.
Pregnant women are to be included in the island's anti-flu drive in Guernsey this year.
It follows revelations from a study in Australasia last year which discovered that expectant mothers were more likely than non-pregnant women to develop critical illness associated with the H1N1 (swine flu) virus.