Guernsey road closure may lead to extra buses on routes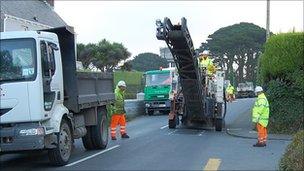 Guernsey's bus company could have to bring in extra buses and drivers because of the Forest Road closure.
The road was closed for three weeks from Monday for resurfacing, part of eight weeks of closures in the area.
Hannah Beacom, managing director of Island Coachways, said it could potentially impact on all bus users.
She said: "It's a significantly longer diversion than we'd normally be running, which knocks on to our abilities to run to timetables."
She added: "We're expecting a five minute delay here, a 10 minute delay there, but because the same vehicle may then run on to another service in the north of the island it could impact on all of our schedules.
"As today is the first day we're very much trialling to see how long it's taken each vehicle to get round the diversions and whether tomorrow we may need to look at getting more staff in with more vehicles."
Related Internet Links
The BBC is not responsible for the content of external sites.