HMS Victory cannon 'rare example', says expert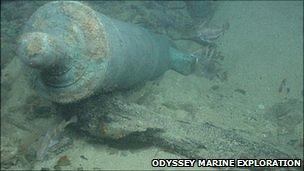 The 41 bronze cannon discovered with the HMS Victory shipwreck in the English Channel are "extremely rare examples", an expert has said.
The ship, the predecessor to Lord Nelson's Victory, sank in a storm on 5 October 1744 with all hands.
Charles Trollope, a historical expert, said the ship was built at a "seminal moment in the history of gun founding".
The fate of the ship and the remains of the more than 1,000 crew are the subject of a UK public consultation.
Mr Trollope made the comments after examining the two cannon brought to the surface by Odyssey Marine Exploration, the company that found the wreck in May 2008, to establish the identity of the shipwreck.
He said: "As a result of the normal practice of melting brass guns down for re-use, very few cannon from this pivotal era survive for study.
"[Admiral Sir John] Balchin's Victory is thus a highly unique site in the history of naval ordnance: the only wreck site of a First Rate Royal Navy warship with an intact collection of cannon known in the world."
Mr Trollope said changes in the top naval personnel, naval tactics and the move from casting in brass to iron made the snapshot of history uniquely important.
His research found the Victory was the last British naval vessel fitted with a full complement of purpose-made brass cannon.
The finding of the ship 100km away from Les Casquets rocks meant the blame for the ship's loss could not necessarily be due to an error by the crew or its commander, Admiral Sir John Balchin.
Mr Trollope said putting heavier and longer guns on board the ship would have added up to an additional 18 tonnes of weight above the water-line, which may have caused it to be unbalanced and contributed to its loss after just five months at sea.
The results of the public consultation, which ended in June, are expected either at the end of 2010 or early in 2011, but no fixed date has been set.
The consultation, being carried out by the UK Government and the Ministry of Defence, included three possible options for the site's future - caring for it where it is; recovering the visible artefacts and caring for the rest of the site; or further examination and excavation.
Odyssey, which fully supports full excavation and examination, has released Mr Trollope's paper on the cannon.
This option can only be explored if the site can be shown to be under risk as the UK government has endorsed laws which ban salvage unless a site is under threat.
Related Internet Links
The BBC is not responsible for the content of external sites.