Demolition begins at Guernsey community centre rebuild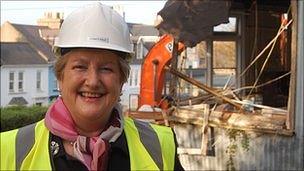 The rebuild of a Guernsey community centre has begun with the demolition of part of the building.
Part of the existing St Stephen's centre in St Peter Port has been knocked down to make way for new facilities.
The plans have been in the pipeline for 15 years, with issues over funding and planning permission delaying the build.
The new extension is due to house toilets, a kitchen and a meeting room.
Jenny Tasker, a St Peter Port constable, said: "One of our problems for many years is we don't have the community areas that many other parishes do, so we're looking forward to seeing this operational and available for anyone who wants to use it."
Fundraising is continuing for the work as the trustees still need more than £140,000 of the £368,100 needed for the project.