No electricity supply disruption from French strikes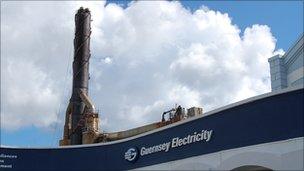 Guernsey's power station has produced more electricity during disruption to the French supply network.
Strike action over pensions reforms has led to France having to import power.
It means the power from the cable link between the island and France has to supported by more local production.
Steve Morris, engineering director at Guernsey Electricity, said there was no danger of a shortage of supply for islanders.
He said: "We're doing a bit more generation than we might otherwise have done, we've got arrangements in place with our friends in France.
"If they have supply side difficulties we may do a bit more generation to assist them.
"As far as we're concerned it's business as usual and our customers have no reason to be concerned at all about the electricity supply in Guernsey."
Related Internet Links
The BBC is not responsible for the content of external sites.