Common shag population in Guernsey in decline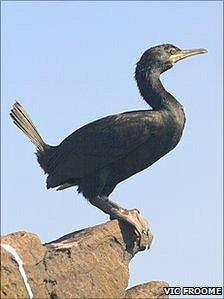 The common or European shag population in Guernsey is in serious decline, according to an expert.
Over the last few years there has been a significant reduction in the seabird's population in the Channel Islands.
The shag, is the coastal cousin of the cormorant and can be distinguished by its crest.
Paul Veron, seabird co-ordinator for La Societe Guernesiaise said it was caused by harsh winters and a lack of food.
He said: "Certainly years like 2007 and 2008 were disastrous years for shag, the breeding productivity in those years was very low indeed, almost certainly as a result of a scarcity of food.
"In 2007 the vast majority of adult shags didn't nest at all, in 2008 probably two thirds of them did try but there wasn't enough food early in the season and most of those birds actually abandoned those eggs only a part way through the season."
Mr Veron said shag populations could be decimated by food shortages, caused either by severe and prolonged storms or a lack of sand eels during the summer months.
He said: "The Bailiwick of Guernsey has quite an important breeding population of shags, probably about 850 pairs, which has been relatively stable over the period from the mid-1980s up until 2000."
Mr Veron said that was when the last survey was conducted, but that they had monitored the colonies every year.
He said the birds could live for up to 25 years.
Related Internet Links
The BBC is not responsible for the content of external sites.