Guernsey dairy farmers 'squeezed' off land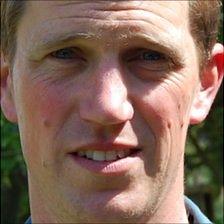 Guernsey's dairy farmers have claimed they are being squeezed off land by islanders' demands for parkland, gardens and horse grazing.
James Watts, spokesman for Guernsey Farmers' Association, said 3,000 vergees (1215 acres) had been lost in the last 10 years.
He said farmers were unable to match the higher rents paid by horse owners.
Mr Watts said they had agreed with the States to look at the issue once a review of the industry was completed.
"There's 15,000 vergees zoned as agricultural in Guernsey, 10 years ago dairy farming used 10,000 vergees, last year we used 7,000 vergees so we've lost 3,000 vergees, that 300 vergees a year," he said.
"We need three vergees, preferably more, to feed a cow, so that's 100 cows a year."
He said the owners of fields could get double the rent by using it for horse grazing rather than cow farming.
Mr Watts said: "The horse community is getting larger and larger and they want land to look after their horses.
"You can't farm without land, it would get to a point where it loses critical mass, the dairy says it needs to be a certain size to make it economic and the same would be true for land for farmers."
Related Internet Links
The BBC is not responsible for the content of external sites.