Staff shortage shuts Princess Elizabeth hospital ward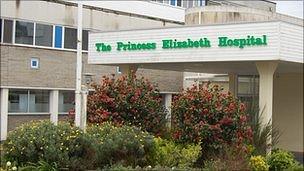 A shortage of nurses is forcing the closure of a ward at Princess Elizabeth Hospital, Guernsey States has said.
The Victoria Wing, which is used by private patients, could remain closed for the rest of the year.
The Department of Health and Social Services said it would need to employ up to 28 agency nurses to keep the wing open.
While the ward is closed, private patients will be accommodated in side rooms elsewhere in the hospital.
A department spokesman said the cost of agency nurses was three times more than States-employed nurses.
In a statement, he said efforts were being made to recruit more staff.
The ward is expected to remain closed for about four months, during which time minor improvements will be made.
Related Internet Links
The BBC is not responsible for the content of external sites.