Reburial for roadworks skeleton in Guernsey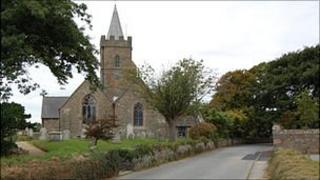 The remains of a young man which were dug up during roadworks have been reburied in the St Saviour's Church graveyard.
The skeleton, more than 100 years old, was discovered in September by electricians working close to the church on Les Neuf Chemin Road.
About six people gathered for the ceremony on Tuesday.
The remains were found in an area which was once part of a bigger graveyard before the road was built.