Guernsey warns of airport delays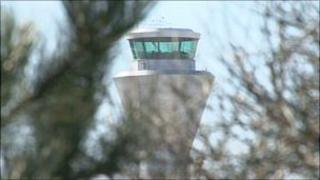 Guernsey Airport has warned there are likely to be delays to air travel into and out of the island due to an upgrade to the Jersey Air Traffic Control.
Jersey Airport manages the airspace from the middle of the English Channel to the French coast from the surface to 19,500ft (5,800m).
The installation of new system in Jersey, as part of an £11m upgrade, will affect Guernsey and Alderney.
Guernsey Airport said the delays were likely to be on or after 2 December.
Colin Le Ray, airport director, said the situation was unavoidable as the Channel Island Control Zone was under the ultimate control of staff in Jersey.
He said management and staff would speak to the airlines and work to minimise any disruption to passengers.
"Where flights cannot operate within normal airport hours extensions will be provided to airlines to allow later operation.
"Our priority is to minimise any disruption to passengers and help ensure everyone booked to travel will get away as soon as possible," said Mr Le Ray.
He said if there was any delay in the "go-live" date for the tower then further advice would be issued.