New members elected to States of Alderney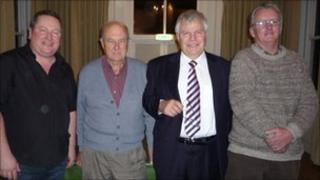 Three new members have been elected to the States of Alderney alongside two members who won new terms in a contest for five available seats.
Twelve candidates were vying for the seats, made available by existing members coming to the end of their four-year terms.
Matt Birmingham secured the most votes, with 654, ahead of Ian Tugby, 502, and Paul Arditti, 501.
Also elected were Raymond Berry, with 450 votes, and Tony Llewellyn, 388.
Just over half of the population of 2,400 were eligible to take part, and the turnout was 70%.
Half of the States' 10 seats are elected every two years.
One of the five available seats was vacated by Liz Bennett, who stepped down earlier this year.
Mr Birmingham, Mr Arditti and Mr Berry were all standing for the first time, while Mr Tugby and Mr Llewellyn had both been seeking re-election.
Polls opened at 0930 and closed at 1830 GMT at the Island Hall.
The five elected will serve alongside Peter Allen, John Beaman, Boyd Kelly, Geoffrey Sergeant and Bill Walden.
Norma Williams missed out on being elected by 23 votes, polling 365 votes.
The other unsuccessful candidates were Ray Gaudion, 323 votes, Victor Levine, 170, Lin Maurice, 165, Arthur Wheeler, 147, Ken Hampton, 131, and Lois Fitzgerald, with 43 votes.