Flybe plane heading to Guernsey struck by lightning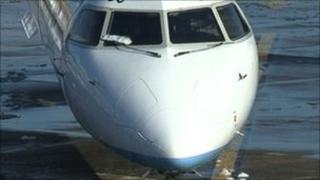 A plane has been grounded for inspection after it was struck by lightning on approach to Guernsey airport.
Flybe confirmed lightning struck flight BE952 en route from Jersey.
A spokesperson for the airline said: "There was no immediate loss of altitude [and] the aircraft...landed safely without incident."
Some damage was visible on the nose cone of the Bombardier Q400 plane following the incident on Sunday.
The spokesman added: "Strikes are not unusual, but aviation authorities demand a rigorous inspection after every incident."
They said: "Once weather conditions on the island allow and the aircraft is cleared of snow, it will be fully inspected by Flybe engineers."
Flybe said: "The aircraft will return to service once any necessary work has been completed and all relevant regulatory approvals received."