Guernsey's Vale Castle cliff to be stabilised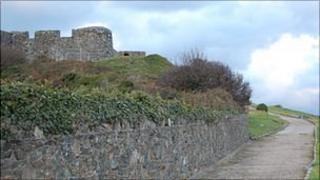 The cliff below the southern side of Guernsey's Vale Castle is due to be stabilised after a number of rock falls.
Rabeys Garage is behind the work as the rocks have been landing close to its warehouses.
During the six weeks of work, which started on Thursday, the footpath around the south west of the castle will be closed.
The remainder of the site will remain open to the public throughout the work.
Jon Greenfield, a geotechnical engineer who has been working on the site, said: "To stop any future damage something needs to be done.
"By removing the unstable soil from the cliff face and netting the face we'll secure the long-term future of the cliff."