Guernsey Airport runway may use 'new technology'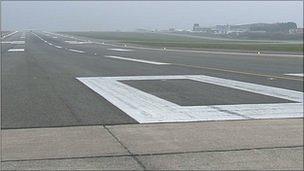 Arrester beds are being considered in the multi-million pound renovation of Guernsey Airport's runway, the States department responsible has said.
The current project to extend the safety area, expected to cost £81m, is due to start at the end of the summer in 2011 and be completed in two years.
The Public Services Department said the arrester bed technology, which stops runaway planes, was being discussed.
Deputy Minister Scott Ogier said: "This is very cutting edge technology."
He said it was unlikely option for the island: "If Guernsey were to go down this route we'd be the first in the UK and we'd be second in Europe."
However, the technology is used in a number of airports in North America.
The UK Civil Aviation Authority's policy is to approve the technology where a suitable safety area, 240m (790ft), is not an option and a suitable safety assessment has been carried out on the site.
Related Internet Links
The BBC is not responsible for the content of external sites.